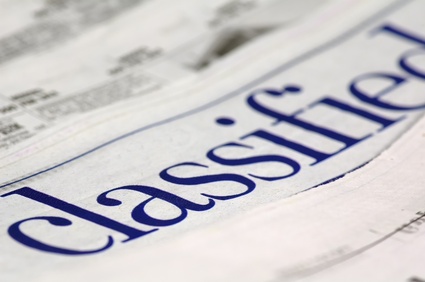 I get asked a lot of questions in my job; questions like, "How much rent could I get for a three bedroom unit? Are studio units more popular by the University of Minnesota, or do students prefer one bedrooms plus dens?"
I'm glad my clients ask these questions. It tells me they're remembering what I told them: two of the most important factors to consider when calculating whether or not to purchase a Minneapolis or St Paul duplex are rents and vacancy rates.
Of course, the next question I get asked is how to locate that information. My answer is always the same: the Star Tribune and Craig's List.
Every Saturday the Star Tribune includes their "Homes" section. It's often filled with useful information, not only for single family home owners, but also investors and multi-family home owners. Throughout the month, they periodically publish a rental section inside of "Homes". Right next to or below the "Renting and the Law" column, the Trib publishes a rent sampler. The rent sampler is a chart of the average rents and vacancy rates for types of apartments in various Twin Cities locations.
The newspaper gets this data from a publication called Apartment Trends, which is published by GVA Marquette Advisors. 
While this information is useful in quickly getting a bird's eye view of a neighborhood, it is dated. Last weekend's chart, for example, was gleaned from information through March. That's where Craig's List comes in.
In the past, landlords would often scan classified ads in the local paper to see what the competition was charging for rent in their immediate neighborhood. As more and more property owners realize free is a good thing, they are placing more of their ads on Craigs List. This also affords them an opportunity to publish photographs of the unit they're offering. This is especially useful, as it provides a means of comparing your unit to theirs.
It's important to bear in mind that while your unit and the advertiser's may have the same number of bedrooms, amenities like off-street parking, dishwashers and free cable add value. Speaking less scientifically, it has also been my experience that a property with "bling", like built-in buffets and leaded glass windows also hold a certain cache with prospective tenants. Therefore, wherever possible, make sure the rental unit is of a comparable vintage as well.
Knowing this information can also help you find value in the purchase of a property. For example, if you know a two bedroom in that neighborhood typically rents for $1000 a month, and the present tenants are only paying $750, you may have an immediate opportunity to increase revenue.
No matter what, try to be realistic and conservative as to the amount of rent you can generate. As the saying goes, "It's better to be safe than sorry."
It is also critical to remember that no matter how wonderful your property is, odds are your units won't be full 100 percent of the time.
You can also find this information in the Trib's column. I am fascinated by this data, because it always seems to dispel some notion I had about what a desirable unit is. For example, Saturday's report shows that two bedroom units with dens have the highest vacancy rate in St. Paul at 23.1 percent. In fact, that is the highest vacancy rate found anywhere in the metro area for a unit of any size. Meanwhile, a three bedroom plus a den or four bedroom in St Paul has a vacancy rate of zero.
When you have the numerical answers for both rents and vacancy, calculate the annual gross rent, multiply it by the vacancy rate and subtract that number from the gross rent. For example, if rents total $1000 a month, 12 months would create a gross annual revenue of $12,000. If vacancy rates were five percent, you would need to deduct $600 from the $12,000, ($12,000 x .05 = $600) leaving you with $11,400. This is the money you have left to pay the mortgage and expenses.
If you do your math before you buy, you'll always know exactly what you're getting in to.