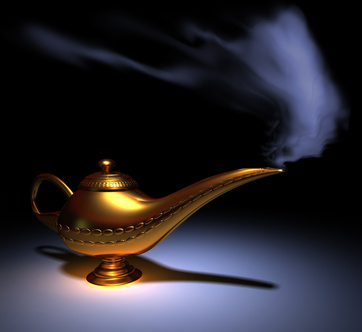 We kept rubbing, but it looks like we're not going to get three wishes after all.
The plan submitted to the Senate by Nevada Republican John Ensign that would have encouraged banks to lend at interest rates between 4 and 4.5 percent was defeated yesterday by a resounding margin. I think it would have helped, but most senate Democrats felt it would ultimately prove too expensive to taxpayers.
I called Senator Isakson's congressional office yesterday in an effort to get a copy of the text of the amendment that provided for the 10 percent or $15,000 home buyer tax credit. They referred me to the Thomas.gov web site, which has to be the most exasperating system for research in the world.
Apparently I wasn't the only one who called, as the senator now has the amendment posted on his web site.
While yesterday's information was that the credit could be taken retroactively on purchases made after December 31, 2008, the bill itself says something else. It states eligible properties must be purchased on or after the day the American Recovery and Reinvestment Tax Act of 2009 is enacted and expires exactly one year later.
The credit is non repayable, provided you own the house to two years.
The bill also reads that tax credit may be taken over two taxable years starting with the year the purchase is made, and the year after. Again, however, the amendment goes on to say that the taxpayer may  elect "to treat such purchase as made on December 31, 2008".
If I'm understanding all of this correctly, think about this. Buy a Minneapolis duplex as soon as the bill is passed. File your 2008 taxes on April 15. Get up to $7500 back from the government in June. Of course, you have to have paid that much in tax in the first place. If you paid less, your tax credit will be reduced accordingly.
No matter. In this market,  that may well be more than the down payment!