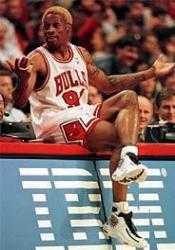 The good news is the Minneapolis duplex market seems to be behaving like Dennis Rodman: catching up with most missed shots.
For the week ending April 4, 2009, pended multi-family sales were up 96 percent over last year's mark.  Grossing a cumulative of $5,678,370, the 54 properties that left the market did so at an average list price of $105,160 each. While better, this number still significantly trails the 2008 mark of $155,880.
In an almost unbelievable move, new listings dropped from 123 for the comparable week in 2008 to 55 for the same stretch in 2009.  That's a drop in new inventory of 55 percent.
Of those that came on the market this year, 76 percent were bank owned or mediated. While it's still not a great shooting average from the floor, it is down significantly from the 100 percent a few weeks ago. In this case, of course, lower percentages are better.
The week's market performance was a team effort. Single family home sales for the week were up 28.7 percent over last year. And get this; it was the best single week performance since May 2007.
While the amount of new inventory jumped with the advent of spring, there are nonetheless, 17.5 percent fewer homes on the market than there were at this time one year ago.
Remember, if the market shoots often enough, sooner or later those shots will start dropping.