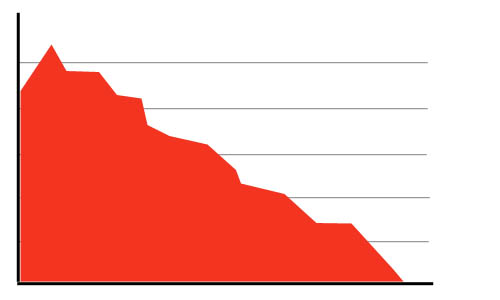 There was a quiet bit of good news for Minneapolis duplex buyers in the mortgage market this week.
PHH Home Loans and two of its mortgage insurance companies removed the "declining market" label from the Twin Cities.
For the last couple of years, lenders deemed a metropolitan area a "declining market" if the Federal Housing Finance Agency Home Price Index saw a slide in value of, basically, one percent or more. In other words, if the average home price drops, it's a declining market.
Understandably, banks are reluctant to lend money on a duplex that's going to be worth less money one year from now. As a result, if a property is in one of these markets, an appraiser may flag it as such. This has, has often resulted in owner occupant buyers who intended to use conventional financing being required to bring more money to closing table for a down payment.
This often meant a 20 percent down payment on the duplex they wanted to live in. Needless to say, this additional cash requirement was a deal breaker for many.
Big deal, right? Just use an FHA loan.
Well, remember those FHA red flags?
Things like flaking or peeling paint, 60 amp electrical service and so forth can cause an appraiser to call for repairs before the lender will approve an FHA loan. And in the case of many foreclosures, banks refuse to either make or allow the buyer to make the fixes.
Without the ability to make even the most minor of repairs, many buyers have had to resort to 203(k) financing, resulting in an interest rate that's a full one to two percent higher than they otherwise would have qualified for. This too has resulted in many buyers having to cancel their purchases.
Knowing this, some more traditional types of sellers are reluctant to accept FHA financing and state it on the MLS. The fear is, of course, they will lose valuable market time while the property is pending sale, only to have it available again when the FHA financing falls apart.
This week's removal of the declining market label means that provided a buyer has a good credit score and the minimum of a five percent down payment, he can get conventional financing; which often doesn't have the stringent FHA restrictions.
This has already worked to one client's advantage this week. 
An estate refused to review any offers involving FHA financing, fearing, of course, the heirs would be forced to perform maintenance in order to sell the property. However, my buyer did have a great credit score and the five percent down payment, and was therefore able to write an offer on the property.
It's important to note that not every lender (including Wells Fargo) has removed their "declining market" status for the Twin Cities. And due to stricter credit requirements, it won't be an option for everyone.
For those who can, however, it delivers a bit of an edge in winning the bidding wars now raging as everyone tries to beat the first time home buyer tax credit deadline.