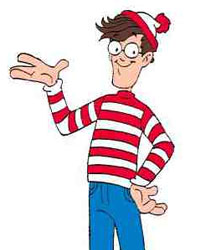 OK, where are all the Minneapolis and St Paul duplexes that should be getting bought and sold?
Maybe they're hiding with Waldo.
It isn't that people aren't looking to buy. They are. Well, at least my phone's been ringing with people looking to purchase investment property.
And we're not finding much to choose from on the MLS. Fact is, neither is anybody else.
For the week ending March 26, 2011, just 20 new duplex and small multi-family property listings hit the market. That's down almost half from last year's new offerings for the week. The good news is 50 percent of the 2011 total belonged to traditional sellers. This represents a 15 percent increase over last year.
These figures may well be the result of winter's foreclosure moratorium implemented by major lenders as they investigated the robo-signing scandal, but time will tell. I still see long lists of Notices of Default (the first step in the foreclosure process) when I check every morning, but the numbers don't seem to be anywhere near what they were last fall.
Even though there's less inventory to choose from, this wasn't reflected in the average off market price of $115,166.67. When these sales officially close, odds are good that they will have sold for less than they pended for. As this number is terribly close to the sold mark of $117,340 set for the week a year ago, it's reasonable to predict the average sold price will be down week-over-week.
The trend of fewer properties to choose from was true in the single family home market as well, with 37.4 percent fewer new listings this year than last.
Pending single family home sales also saw a 27.2 percent decrease, though this figure may be skewed slightly due to this year's lack of a first time home buyer tax credit incentive.