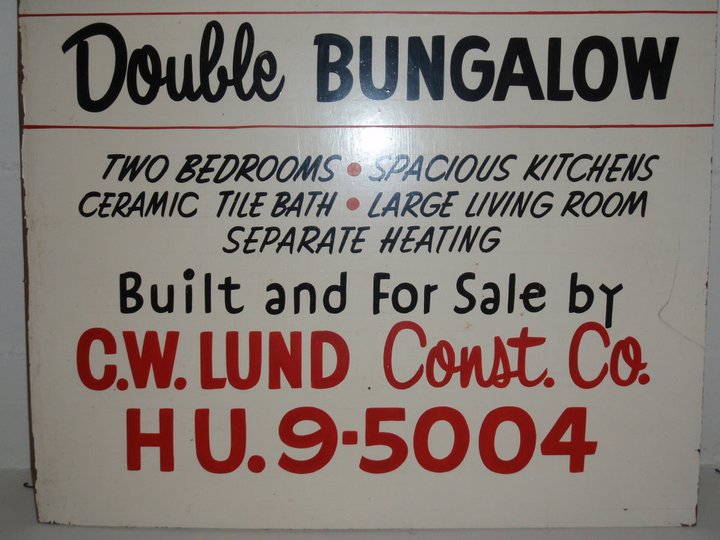 I recently saw this sign in the basement of a St Paul duplex my clients are buying.
It is the original "For Sale" sign for the duplex, dating to the property's construction in 1959.
I had never seen one for a duplex. And it reminded me of all the different names there are for duplexes.
The term "double bungalow", was, for a long time, the description the county tax assessors used to describe duplexes, and is probably the most common description used in Minneapolis and all of Hennepin County.
I imagine this term stems from the Craftsman era of housing, when single family home designs were for "bungalows". And, as the upper Midwest is a treasure trove of homes from the era, with many of the Twin Cities most highly sought-after duplexes built in that era of architecture, it would make sense.
In some parts of the country, duplexes are called twin homes. This is a little confusing for many of us, as a twin home in Minnesota consists of two separate homes, with separate property identification numbers, that share a common wall. These properties may be owned and sold separately.
A duplex, on the other hand, typically has one county property identification number and as a result, one owner.
Our friends in Chicago and Detroit often refer to a duplex as a "two flat". A two flat is two separate residences, with two separate residences on a common lot that share a wall or floor/ceiling. In Chicago, most two flats are two story properties.
A duplex apartment in Manhattan is another matter entirely. It usually consists of a single residence, spread over two floors, with a connecting staircase.
The good news is whether it's a St Paul duplex, Minneapolis double bungalow, Houston twin home or Chicago two flat you're looking for, the advantages of owning investment property are all the same.