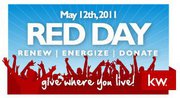 Today is Red Day.
What is Red Day?
It's a day when every Keller Williams Realty International office in the United States and Canada goes out into their community and performs a day of service.
It's up to each office what service they'd like to perform. In mine, we're conducting a canned food drive for VEAP, which is a local food shelf.
Other offices are conducting blood drives, working with Habitat for Humanity, or doing any number of other things to give back.
While Keller Williams' company color is red, in this instance, RED also stands for Renew, Energize, Donate.
The event was started as a way to honor and celebrate company Vice Chairman Mo Anderson's  birthday, which is May 12. Mo's big on giving, so this is a perfect way for us to wish her a "Happy Birthday".
So if you see us out and about, stop and say "Hi".
You'll be able to recognize us. After all, we'll all be wearing red.