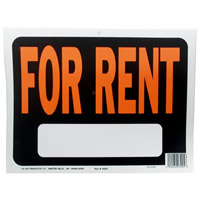 If it's a great idea to keep your Minneapolis or St Paul duplex rented for as close to market rents as possible, how do you determine what that amount is anyway?
I wish there was a scientific formula. However, I happen to think non-scientific web sites like Craigslist, Oodle and Hotpads, are a great place to start.
Take a look on those web sites, local newspaper web sites, or take a look at the local newspaper. Try to find rental units like yours in your area and nearby neighborhoods and see what they're renting for.
If you're driving through your area and see an orange and black "For Rent" sign in a front yard, pull over and see if there's a unit description on the sign. If not, you can always call to find out what's offered with the property and how much it's renting for.
Be sure to compare amenities. Locations. And if there are photos included in an online or print ad, do your best to compare condition. Try to determine whether or not the landlord in the ad pays for heat, if so, that unit will rent for more than one where the tenant is responsbile for his or her own utility bill.
If there are only 2 bedroom duplex vacancies in the area and your property has an empty 3 bedroom unit, take the amount of the rent advertised and divide it by the number of bedrooms. For example, a 2 bedroom unit that rents for $1000/month is renting, essentially, for $500/bedroom a month.
Then take the $500 and multiply it times your 3 bedrooms. This will put your rent at $1500/month. However, please note that more bedrooms sometimes results in an economies of scale; with less demand for big units, and a greater lack of privacy for those who occupy them.
Of course, the best way of all to maximize the rent you collect is to try to fill a vacancy. If you advertise one amount, and don't get any response, odds are you're charging too much.
On the other hand, if your phone never stops ringing, you may be under valuing your property!