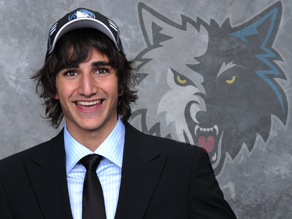 I'm looking forward to seeing Ricky Rubio play for the Minnesota Timberwolves.
Even though he's partially responsible for the high duplex property taxes in Minneapolis.
OK, to be clear, he alone isn't responsible for it.  The Target Center is.
In 1995, the city of Minneapolis bought the Target Center. As part of its agreement with the Timberwolves, the city is required to maintain the building as a first class facility.
In order to do so, the city created a special tax district that generates about $10 million a year to pay off, improve, and maintain the place. Some of the same fund is also earmarked for neighborhood revitalization projects.
But even that doesn't explain how Minneapolis duplex taxable market values can decline, but the amount of taxes property owners are paying keeps going up.
According to a recent story in Downtown Journal, cuts in Local Government Aid at the state level, as well as a tax burden shift from commercial to residential properties during Gov. Jesse Ventura's administration, resulted in homeowners paying 56 percent of all property taxes in 2011.
In 1997, homeowners paid just 33 percent of all property taxes.
Of course, it's important to remember that 2011 property taxes are based on market values determined by non-distressed duplex sales in 2009.
Even after Minneapolis increased its levy by 4.7 percent in 2011, it will collect just $281 million in property taxes in 2011.
Th city has an annual budget of $1.36 billion.
So what do duplex property tax revenues pay for?
A big chunk of it goes into the city's general fund. Of that pool of money, 21 percent goes toward paying for police, 17  percent for parks, 14 percent for pensions, 9 percent for fire, 7 percent for capital projects and 5 percent for public works.
I hate our high duplex property taxes but, I hate the thought of one less cop or fire station even more.
Let's hope Rubio puts on a good show. It might help ease the pain.