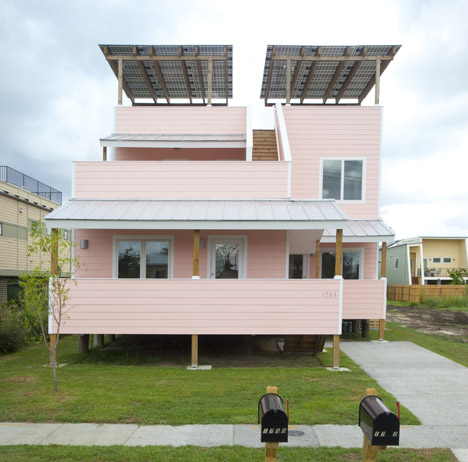 Even Brad Pitt loves duplexes.
Two years after the destruction of Hurricane Katrina in New Orleans' Lower 9th Ward,  Pitt toured the area and noticed absolutely nothing had been done to rebuild it.
To help change that, he founded the Make It Right foundation, with the goal of building affordable, well-designed homes in the Lower 9th Ward.
Pitt raised money and solicited help from well-known architects like Frank Gehry.
This week, the foundation announced the completion of Gehry's contribution to the project; a four-bedroom, three-bath duplex.
The property features a three-bedroom, two-bath home in the front, where the owner will reside. In the back, there is a one-bedroom, one-bath rental unit.
The duplex helped Make It Right reach the halfway point in its goal to build 150 homes.