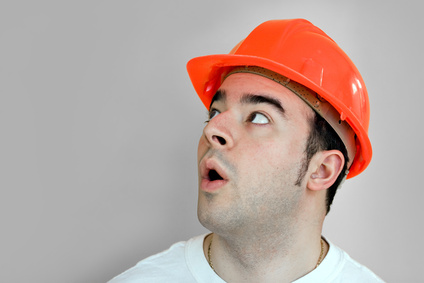 Many of the tips and suggestions I share here are the result of my own personal experience as a property owner. In doing so, my hope is you'll either learn something new or be reminded of something you had forgotten.
Unfortunately for me, learning never ends.
Over the summer, I decided to embark on some long-overdue remodeling of my own residence. And as part of that project, I wanted to use some flooring that's something of a specialty item.
It turned out there was a manufacturer of this product in my area, so I spoke with the company directly.  In the course of those conversations, it was suggested that since this type of flooring had some unique quirks in installing it correctly, I find a contractor who had the experience to install it.
I didn't know of anyone locally, so I asked the manufacturer for a recommendation.
The gentleman they sent initially seemed like a godsend. He said he was a licensed general contractor, and as I also needed to replace some windows, I thought I'd found my savior.
The first sign of trouble was when he demanded more than my down payment for the job to show up and work.
The second was him not showing up when he said he would.
The third was him screaming at me on the phone when I asked why he hadn't shown up.
The fourth was shoddy workmanship.
The fifth was missing materials I'd already paid for.
And the sixth was his complete lack of responsiveness to all forms of communication.
I am largely a patient person. But six months into a project that should have taken at most, a month, I finally got angry.
So I contacted the Minnesota Department of Labor and Industry to see if this contractor did, in fact, have a license, and whether I had any recourse against this individual.
Turns out he never had a license.
In Minnesota, anyone who engages in more than one category of construction: Excavation, Masonry/Concrete, Carpentry, Interior Finishing, Exterior Finishing, Drywall and Plaster, Roofing and/or General Installation Specialties is required to have a contractor's license. The only exception is Roofers, who are required to have a license, even if it's the only thing they do.
The good news is the Department of Labor and Industry has an Enforcement Services division. Consumers can send all of their receipts, contracts, and communications to them. If they feel there is merit to the case, they will pursue the company or individual and levy fines of up to $10,000.
And while they're in pursuit, I can either hire a lawyer or take this person to small claims court.
In all, it was an excellent reminder to always ask contractors for their license number or to look them up on the state website before you pay them a dime.
And if not? Well, maybe we can carpool to court.