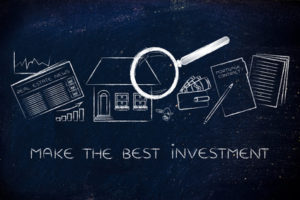 Last month Bankrate released its latest Financial Security Index poll, and discovered one fourth of the respondents said they would rather invest in real estate with money they won't need for the next 10 years.
That doesn't sound like a lot until you look at the rest of the numbers.
Real estate beat out CDs and savings, which just 23 percent of those polled thought was a good place for a long term investment. Sixteen percent of those surveyed thought the stock market or precious metals would yield the best 10 year strategy, and just 5 percent thought they should put their money in bonds.
Due to the dot-com crash of the early 200s and the slide of the financial crisis of 2008-2009, many people don't trust the stock market. This holds true in spite of the fact the stock market has benn on a bull run (when prices rise and investors are confident in the market) since 2009.
Real estate may inspire investor confidence, in spite of its own crash during the financial crisis, as a result of it being a tangible asset that, as an investor, you can see and touch.
While it may not be as liquid as money in a savings account or even stock, if the return isn't what it should be, can you physically improve or manage differently to help change your rate of return. An investor may improve their cash flow by doing something as simple as picking up a paint brush, cleaning up the yard, or screening tenants more stringently. It's tough to that with a stock.
If you believe real estate is a great investment, but aren't sure how to get started, give me a call or email me. You'll see why so many people believe it's the best possible way to make sure you're protecting your financial future.