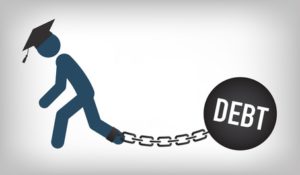 Is there a reason investment properties continue to be among the hottest sectors of the real estate market?
The answer may be found with millenials. After all, a recent study by CoreLogic found that 60 percent of applicants for rental housing between 2011-2015 were millennials.
And that means student loan debt.
The total amount of student loan debt in the U.S. has mushroomed from $380 billion in 2004 to $1.3 trillion in 2015. The only collective consumer debt that's bigger is mortgages.
Nearly half of all millenials (48%) in 2015 had student loan debt. This represents a 10 percent increase over just 8 years ago.
The average amount of student loan debt was $31,900 for adults between the ages of 20-34. In 2008, this average was $22,500. The median balance was up 53.7 percent to $18,600; an increase of more than $6500 over the $12,100 median in 2008.
Repaying this debt may be the reason so many of today's renters are millenials.
With no sign of this changing soon, odds are millenials will continue to rent, keeping vacancy rates low.
Low vacancy rates mean higher rents, which make it a great time to be a landlord.