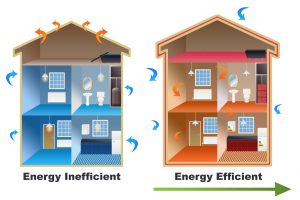 If you are a Minneapolis rental property owner, instead of upgrading your units with granite countertops, it may be time to go green.
Last month, the Minneapolis City Council approved two policies which will impact landlords and duplex sellers in the city.
Starting in 2021, landlords in the city of Minneapolis will be required to make a Time of Rent Energy Disclosure. This will serve to tell prospective tenants, up front, what the average energy cost per square foot of the unit they are considering renting.
And if you're thinking of selling your Minneapolis duplex or rental house? You will now be required to provide a Time of Sale Energy Disclosure – which will be part of the city's required Truth In Sale of Housing Report (TISH). This will let buyer's know what their expected energy costs may be.
The idea behind these new disclosures is to encourage homeowners and landlords alike to not only update kitchens and baths, but do less visible improvements like add insulation or update windows as well.
Many utilitiy companies offer free energy audits. If, as a result, an investor chooses to improvements, rebates for upgrades to windows, insulation, more efficient furnaces and even the installation of solar panels and other renewable forms of energy.
Going forward, it is conceivable that prospective tenants may be willing to pay more in rent for units that are more energy efficient, and less rent for those that are not.
Minneapolis duplex buyers may also decide they are willing to pay less for those properties that are less energy efficient; as they may perceive the cost of making those improvements to be prohibitive.
Of course, this year, Minneapolis landlords are still exempt from this disclosure requirement. If you're thinking you just don't have the energy or resources to make the improvements, give me a call.
The market is still very hot.