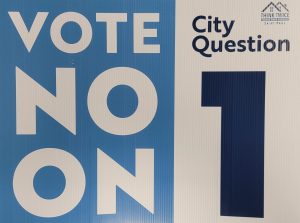 While rent control itself isn't on the ballot in Minneapolis (just giving the city council permission to craft it is), a full-blown proposal IS up for voter approval in St Paul.
As written, the proposed ordinance would be the most restrictive rent control measure in the nation. It got onto the ballot by renter's advocates getting enough signatures on a petition to qualify for inclusion in the election.
Numerous studies by revered institutions like the Brookings Institute, Pew Research, Harvard University and Stanford University have proven time and again that rent control has many short and long-term negative effects on housing values, supply of inventory and housing affordability.
But here are 10 specific reasons why the proposal on St Paul's ballot on November 2, is an especially bad policy.
Rent Increases Have A Hard Cap of 3% – Regardless of the rate of inflation, housing providers may not raise the rent more than 3% per year.
Rent Increases Over the Last 20 Years Have Averaged Below 3% – While the tenant's organizations behind this proposal cite price gouging by landlords, housing data collected over the last several decades don't bear them out. Citing the University Of Minnesota's CURA report, which was commissioned by the city of Minneapolis, rent growth over the last 21 years has averaged 1.7%.
A 3% Limit Will Result In 3% Increases – Housing providers will be reluctant to fall behind on market rent and will raise rents by 3% every year; regardless of whether the market warrants it.
Owners Can't Raise Rent When Someone Moves Out – This hard cap of 3% is per unit, per year, even if a tenant moves out. A change in property ownership does not provide an exception.
Housing Providers Shall Be Allowed A "Reasonable Return" – Presumably, this number shall be determined by a government entity, as it is not detailed in the ballot measure. What a reasonable rate of return is for a rental property owner's investments of capital and time will not be decided by the market.
Housing Providers Must Appeal To Some Mysterious Entity for Exceptions – The proposed ordinance repeatedly references a process where housing providers may appeal to someone or some department at the city of St Paul to increase rent. No explanation of who this department may be or how it may be funded is provided. Exceptions include:

increases in property taxes
unavoidable increases in maintenance and operating expenses
cost of planned or completed capital improvements – only when those improvements involve health and safety items or code violations
increases in the number of tenants
substantial deterioration of the rental unit outside of normal wear and tear items

Decreases in Expenses Also Create Exceptions to Justify Lowering Rent – Housing providers will need to be careful of any cost saving measures, as tenants will have the right to appeal to the same yet-to-be-named entity at the city of St Paul that rents should be reduced because the landlord is paying less in utilities, taxes, etc. then they were before.
Cap Ex Only When "Necessary" – Planning to update the kitchen so you can charge more in rent? Forget it. A modern kitchen may not be deemed necessary and therefore will not allow you an exception to the rental restrictions.
There Are No Provisions for Owner Occupancy – In areas of the country where rent control is in effect, owners may move into their properties and remove them from the rental market. Many owners do this as a way of resetting the rental amount when they move out – usually a few years down the road.
Non-Compliance May Results In Fines and Criminal Prosecution. Pretty self-explanatory.