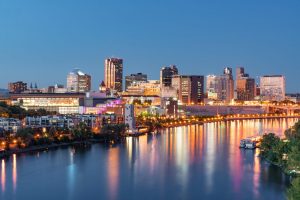 Between February 2021 and February 2022, average rent in St Paul went up, while it went down in Minneapolis.
St Paul passed rent control.
Minneapolis voters did not.
They just gave the city council permission to draft a proposal to maybe vote on later.
Let that sink in.
Just like in every other city that's passed a rent control ordinance, rents went up.
According to data from HousingLink, while median rents for a one-bedroom unit in St Paul declined just 1% year over year, two-bedroom units saw a 4% hike. Three-bedroom units jumped 7%.
Over in Minneapolis, median rents for a one-bedroom unit dropped 6%, two-bedrooms 3% and three-bedrooms 5%.
Meanwhile, the average sold price per multifamily unit in St Paul dropped 25% between Q1 of 2021 and Q1 2022 to $117, 376 per unit.
Minneapolis, on the other hand, saw an increase in value of 36% per unit to $231,843!
So if sales prices and values are down, there will be less money generated for the city and county via property taxes. Conversely, if values are up, then there should be more tax revenue for a city and county to spend.
Yes, both cities have an affordable housing issue. And yes, there are a lot of factors that likely contributed to these numbers. But