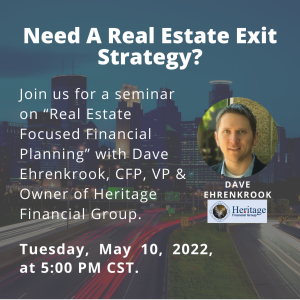 Some of the greatest advantages in owning investment property are depreciation and the ability to exchange into larger properties in perpetuity without triggering capital gains tax.
While most of us dream of our children taking over our portfolios one day, the reality is many of us either grow tired of being a housing provider well before then, or our kids, for some strange reason, don't want to move back from Los Angeles to manage our South Minneapolis duplex.
So what to do when that happens? We can sell our properties and take the substantial financial hits of depreciation recapture and capital gains tax. We can exchange into another property. Or, is there something a bit more hands-off and tax advantaged that we haven't thought of?
To learn about your best options, join me tonight at 5 pm when we visit with Dave Ehrenkrook of Heritage Financial Group about how to best position ourselves to divest of investment real estate when it's no longer in our best interest to own it.
To register, CLICK HERE.