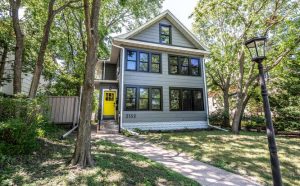 Washington Post financial columnist and NPR commentator Michelle Singletary recently wrote a column entitled "Five Reasons Why You Shouldn't Buy A House Right Now".
I normally love Michelle Singletary and the advice she offers. But as a Realtor, at first her column made me mad.
And then it made me think.
I am also a real estate investor. What she didn't say in her column was that if you're a first-time home buyer or someone looking to downsize, what you should do is buy a duplex instead.
Let me take each one of her reasons and explain.
Home prices are still too high. While the historically low-interest rates of the last few years may have afforded people the opportunity to spend more on a house than they could at higher rates, price has nothing whatsoever to do with whether or not a duplex is a good investment. If it cash flows in a manner that makes the "rent" you pay yourself affordable, doesn't it suit your goals?
You need time to build a better credit history. Singletary argues that if you have less than perfect credit (a score of 850), you focus on raising your credit score so you can qualify for a better interest rate – which, over time, would save you a lot of money. First, why not ask the seller to buy down your rate as part of your closing costs – regardless of whether you're buying a house or a duplex? Second, if interest rates drop, can't you refinance? Finally, if a duplex cash flows now with your below 700 credit score, imagine what it will do when you improve your credit and refinance!
It will wipe out all your savings. – Buying a property, according to Singletary, may wipe out your savings. After all, she argues, if you lose your job during a recession, you may need to rely on that money. First, buying a house or duplex should never completely wipe you out financially. If it does, perhaps you should wait. She also argues sometimes expensive things break in both houses and duplexes. Things like furnaces. However, when you purchase an investment property, you usually get a check from the seller for pro-rated rent and security deposits. If you time the closing appropriately, you may also collect rent from the tenant for the following month before your first mortgage payment is due. While the security deposits should be put in a savings account, the pro-rated rent can be set aside in a rainy day fund for major repairs. If utility companies in the area offer an optional service plan as part of your monthly bill, it is possible to make it a requirement of your lease to have the tenants include it in their service. That way, if a repair is needed, you're covered for most of it – at no additional cost to you.
High monthly mortgage payments won't leave much cushion in your budget. OK, this one makes the least sense of all. Couldn't the same be said of rising rent? And if you owner occupy a duplex, won't increasing the rent in the other unit offset any increased housing costs you may incur (like higher taxes or utility bills)?
There are signs that the hot housing market is cooling.  True. Also true is we have an estimated shortage of housing nationwide of somewhere between 3 and 5 million homes and apartments. Builders are slowing their housing starts so as to protect themselves if the economy turns; which means this shortage will only get worse. As a result, there are NO signs the hot rental market is cooling, nor are there likely to be any time soon. Owner occupying a duplex gives you a chance to be the beneficiary of those conditions rather than be at their mercy.
If you've thought about buying a house, but are discouraged, give me a call. I'd be happy to discuss all the many advantages of investment property ownership, and how you can benefit from them without sacrificing your lifestyle or your life savings!