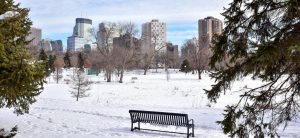 Well, in spite of the media saying the real estate market has tumbled and the world is coming to an end, I've had buyers in multiple offers on three separate occasions in the last 30 days.
Why?
There still isn't a lot of inventory of Minneapolis and St Paul duplexes, triplexes and fourplexes for sale. In fact, in the month of November, there were just 202 active listings in the 7 county metro area. That's down year-over-year from 257 last year which doesn't seem like much of a drop until it's converted to a percentage, where it represents almost a 22% decline of properties for buyers to choose from.
Prices tend to go up when there is strong demand on short supply. And yet, there were just 75 small multifamily property sales in the metro in November. One year ago during the same month, there were 135. In other words, there were 44% fewer Minneapolis and St Paul duplexes sold this year in November than last.
So how were there multiple offers?
Simple. Those three properties were priced right, in good condition, and frankly, managed correctly, they would break even or better yet, cash flow.
Does that mean it's a buyer's market?
Not yet. The month of November saw a three-month supply of inventory. As you may recall, a seller's market is when there is a 4-5 month supply, and a buyer's is when there is anything more. The market feels dramatically different, however, because outside of a few months this year, the last time we had anything more than a 1-2 month supply was February of 2019.
Prices remained strong in November. Sellers were able to obtain 97.7% of their list price at closing. And, at the end of the month, we tallied an average sales price of $421,726.
The high-seller for the month was a Craftsman-era fourplex on Cleveland Ave in St Paul which fetched a healthy $1.2 million for the seller.  At the other end of the spectrum, a duplex on Minneapolis' north side that was stripped down to the studs came in at $80,000.
It's important, as we round the corner into 2023 to keep things in perspective. This is still a very good real estate market.
Case in point? In November 2012, only 68 of the 397 duplexes, triplexes, and fourplexes listed actually sold. They closed at an average sale price of $162,803 and there was a whopping six-month supply of inventory.
In other words, it's still a very good time to be a duplex seller.
Call me if I can be of help.