There's an innovative new way to sell real estate that's coming to our market early next year.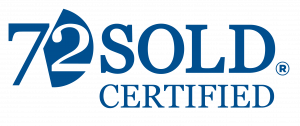 It's called 72Sold. And you're going to start seeing a lot of advertising for it the second week of January.
It's a brand-new way to sell real estate and has proven to net duplex and home sellers 8.4-12 percent more for their properties than traditional real estate sales techniques.
Here's the good news, the system is exclusive to Keller Williams agents who are certified by 72Sold. I am an area director for the program.
The reason I chose to earn this designation is I believe this technique will be especially effective for duplex, triplex, and fourplex owners.
If you're thinking of selling your duplex in 2023, please reach out to me. I'd love to show you how this strategy can help you net more money in less time; regardless of market conditions.