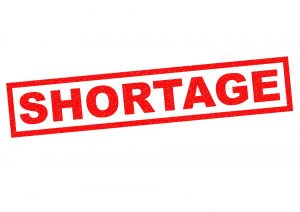 Well, it's March. And just like the last several months, we have a persistent shortage of inventory Twin Cities duplex market.
In the last three weeks, I've sold three duplexes. All had more than 10 showings in the first two days (two of them had more than 30), and all had more than 6 offers.
But when I look at the data for the month, I see that just 43 small multifamily properties sold in the seven-county metro area in February. One year ago during the same month, it was 56. That doesn't seem like that much of a drop, but when I convert it to a percentage,  it's a 23% decline. January experienced a 28% year-over-year drop in inventory.
It seems counterintuitive, but the lack of sales activity on many listings, combined with the flurry of activity I had on my own listings may result from fewer well-priced duplexes in good condition for buyers to choose from this year than there were last. In February, for example, there were 82 new listings. Up from 74 in January and the near record-low 39 in December.  In the last three months, there were just 195 new duplex listings for buyers to choose from.; 35% less new inventory than the same three months one year ago. When I combine the new listings with those that came on the market before Feb. 1, I see a 25% decline in inventory compared to the same period of time just a year earlier.
So there's less inventory and fewer sales, resulting in us having a three-month supply of inventory. This means it's still a seller's market, just as it has been since February of 2015.
The average sales price for the month was $377,141.  That's up from January's $346,354, but still down from the $400,000 plus the monthly averages we experienced in most of 2022. As always, that may be the result of one or a handful of properties that happened to sell that month. That isn't enough to declare a trend.
The high seller for the month was a fourplex with Lake Hiawatha views that traded for $650,000. The month's lowest seller was a duplex in the south Como neighborhood of St Paul that closed at $178,500.